In this guide, you will learn how to get started in Smartling and translate a file. We will create an account, add a linguistic package (which includes a glossary, a style guide, translation leverage, and quality checks), set up a workflow—and then translate and download your files.
Step 1: Activate your Account
When your Smartling Account Manager or Customer Success Manager creates your Smartling account, you will receive an email invitation to activate your account (see below).
As this is from a "noreply" email address, ensure to check Spam and make noreply@smartling.com a safe sender to your mailbox.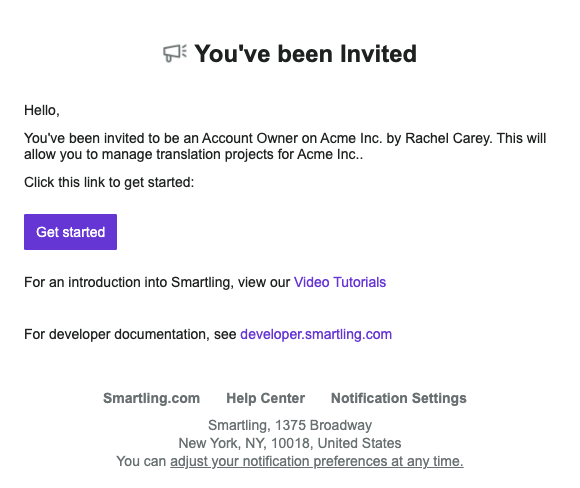 Simply c

lick the Get Started link to open the registration screen.
Add your name and a password and click Register

.

The Smartling Account Dashboard appears.

You can always access this page by clicking the Smartling logo (top left).

Step 2: Enable Notification Preferences
We recommend that you first enable your Global Notification Preferences. This will ensure you will receive email notifications, such as an email notifying you when your translations are ready.
To enabled notification preferences;
Click the dropdown under your name
Click Edit Profile

You're now in your profile settings. You can toggle between profile and notifications settings by clicking the Profile or Notifications tabs (top right).

In your profile settings, scroll down to Global Notification Preferences > toggle ON > Save Changes.

Next, it's time to select which notifications you want to receive.
Go to your notifications settings by clicking Notifications (top right)
Select or unselect notifications

Again, these emails are from a "noreply" email address, so ensure to check Spam and make noreply@smartling.com a safe sender to your mailbox.
Step 3: Create a Project
Now that your account is activated and your notifications are enabled, let's go back to Account Dashboard and create our first Smartling Project.
Click the Smartling logo (top left) to return to the Account Dashboard.

This is where you will find an overview of all your Smartling projects.

What is a Project?
Unlike other industry TMS's, in Smartling, a project is not a translation task.
A Project in Smartling is like a folder of work, containing your translations tasks, which are called Jobs in Smartling.
Projects are typically divided up based on the content that will be translated in these Jobs. For example, your Legal content may be separated from your Marketing content, as the language and tone will be extremely diverse. Projects may also be divided based on Connector integrations.
This is because each Project is configured with a set of tools, called linguistic assets, that assist in the translation tone and style of each content type. By default, Smartling will automatically provide blank linguistic assets when you set up your first Project. You can always import any pre-existing assets to Smartling at a later stage.
As well as linguistic assets, a Project will also be configured with a selection of languages you will be translating from and to, e.g. English to French, Spanish, and German. This is otherwise known as a language pair.
The collection of linguistic assets and language pairs is called a linguistic package.
How to create a Project
To create our first Smartling project:
Click the

Create New Project

button

Select

Files

Choose

Resource Files

and click

Next
Enter a project name

e.g. My First Test Project.

For those more advanced readers, choose a name more suited to the content you will be translating, such as Marketing.

To add a linguistic package to your project, click Create New Package.
Select a Source Language you will translate from and Target Languages that you will translate to.
Click Create Project to finish.
For more information on Projects, see Create and Manage Projects.
Step 4: Create a Glossary
In Smartling, a glossary is a collection of words with rules for each to ensure translation consistency. Glossary terms are highlighted in the Computer-assisted Translation (CAT) tool.
To create a glossary, click Account Settings in the top navigation bar and select Linguistic Assets. Then, on the left side of the screen that appears, click Glossaries and click Create Glossary to open a dialog.

Add a Name, choose the same Source Language and Target Languages you chose in Step 2, and click Create Glossary. Click the glossary name and then click Add Term to add terms to the glossary.
For more information, see Create a New Glossary.
Step 5: Create a Style Guide
A style guide is a collection of rules for content formatting, punctuation, and writing tone to ensure that your customers have a consistent experience across all languages.
To create a style guide for your project, on the left, click Style Guides and then click Create Style Guide. Select Use a Smartling Template, change any options within, and click Save Changes.
For more information, see Create a Style Guide.
(Optional) Step 6: Upload a TMX File
A Translation Memory Exchange (TMX) file is a file format used for exchanging translation memory data created by a CAT tool. It is useful if you're migrating from another translation platform to Smartling.
To upload a TMX file, click Translation Memory. Next to the translation memory for your project, click the three dots and select Import TMX File. Click Continue, select the TMX file from your computer, and click Open.
For more information, see Upload a Translation Memory.
Step 7: Configure Leverage
Translation memory leverage controls which completed translations are available to a project or set of projects, and how those translations can be applied. Put another way, leverage sets the business rules that govern translation memory use.
To configure translation memory leverage, click Leverage and then click the name of your project. Click Enabled to configure SmartMatch settings and then set the leverage penalty, which defines the percentage by which all matches with your translation memory source will be reduced.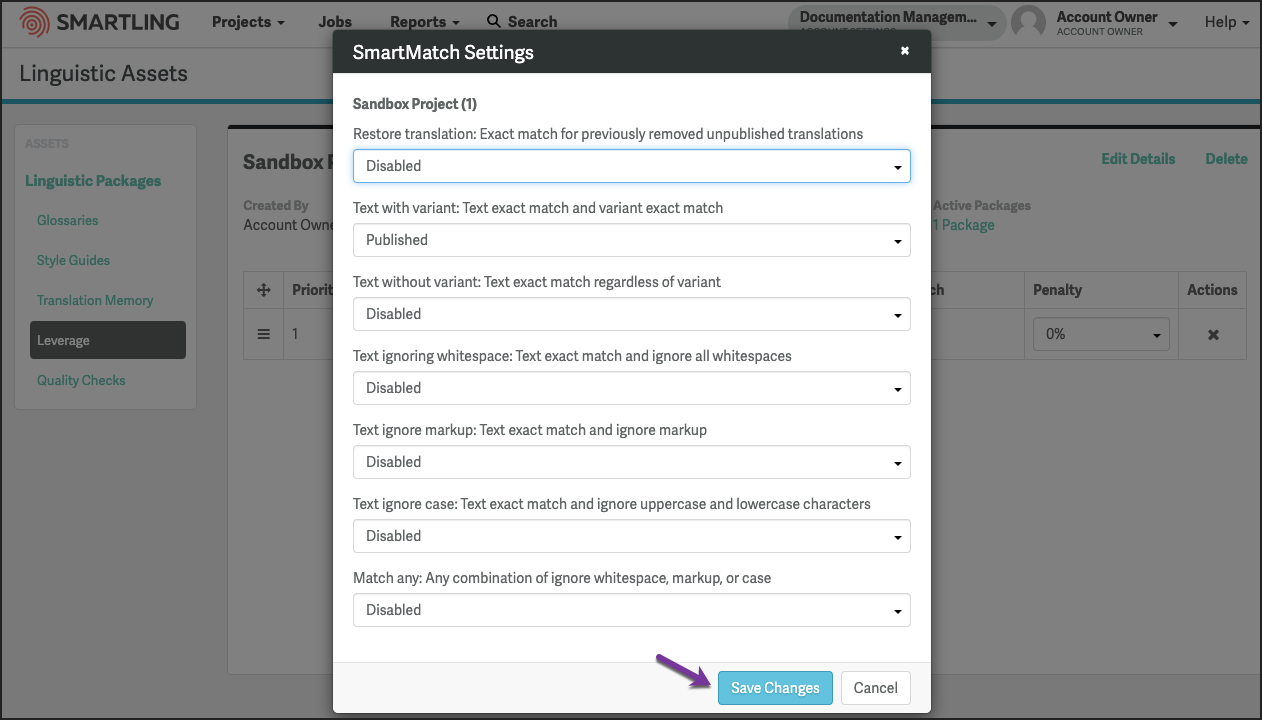 Step 8: Configure a Workflow
In Smartling, a workflow intelligently routes content based on parameters you choose. For example, you might use a workflow to add an edit step for your attorneys to review legal content.
To configure a workflow, from the top navigation bar, click Projects and then search for and select your project. Click the gear icon on the right side and select Workflows.
Click Create Workflow and select Add Project-Level Workflow. Enter a Name and select a Content Type and Target Languages. Click Create.
For more information, see Configure a Workflow.
Step 9: Set Up Quality Checks
Smartling's quality checks improve translation consistency by sending a customizable warning to the translator based on rules you configure. For example, you could warn a translator that a number from a source string is missing from the translated string.
To configure quality checks, click Quality Checks. Choose options and set their severity from the Translation Consistency, Spacing, and Other menu items in the top right area.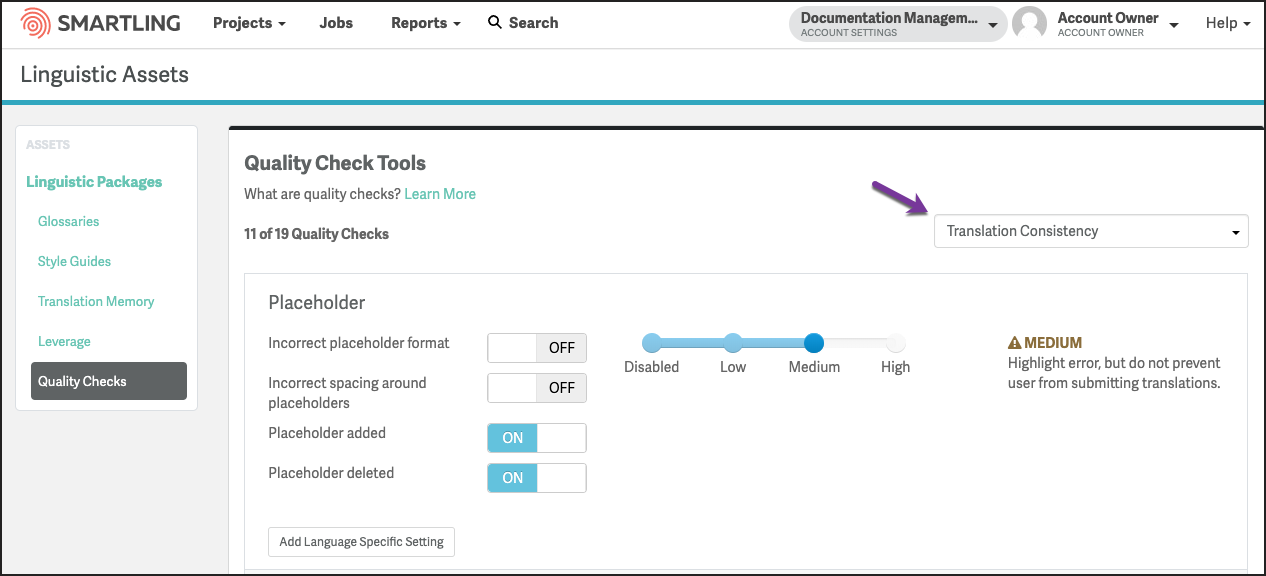 For more information, see Quality Checks.
Step 10: Upload Files
This is an example file you can click to download to test the full experience.
From the top navigation bar, click Projects and then search for and select your project. Click the Files tab and drag and drop your source files to upload them.
When you upload the file, c

hoose Microsoft Office

Choose Translate all

For more information, see The Files Tab.
Step 11: Create a Job
Now that the file is uploaded to Smartling, let's create a job to translate your files in. In Smartling, a Job is a translation task, consisting of one or more workflow steps. At a minimum, a Job has one Translation step.
To translate content with a job, from the Files tab, click Request Translation. Add a Job Name, select Languages, and click Confirm.
You will be brought to the Job Details, where you can get an overview of the Job before authorizing it for translation. You can add a deadline for the Job by setting a due date. Furthermore, you can view how Smartling has parsed the file by clicking View Strings.
When you're ready, click Authorize to authorize all strings for translation.
In the dialog that appears, select the workflow you created in Step 8 and click Confirm. The job status changes to In Progress.
You can monitor the Job's progress anytime from the Job Details by clicking the Job name.
For more information, see Manage Translation from the Job Details.
Step 12: Translate Content
The translation of content takes place in the CAT Tool. There are many ways to translate content in Smartling. In this guide, you will use machine translation.
To achieve this, to the right of each target language, click the three dots, and select Edit in CAT Tool.
For each translatable string, click the target column and then, under Language Resources, click Insert MT. When all strings are translated, click Save All and then click Submit.

Step 13: Download Translations
To download your completed translations, click the Smartling logo in the top-left corner. Then, from the top navigation bar, click Projects. Search for and select your project.
Click the Files tab and click the file tile. Then, next to Translations, click Download Files.

Here is an example of our file translated into French.
Congratulations, you've just completed your first round-trip of the Smartling experience! We recommend consulting each of the linked documentation for more information on each step.