Jobs Dashboard for Agencies
This article is for Agency Account Owners.
Overview
Content in Smartling is generally organized and prioritized in the following way:
A Smartling project (such as a mobile, web, files, or connector project) may contain one or more jobs. You may have multiple projects, each containing multiple jobs. The Jobs feature allows you to group and prioritize content for translation by due date, as well as monitor the progress throughout completion. Each job contains strings, consisting of words or phrases. When using the CAT tool, those strings are broken down into segments. For more information on strings and segments, see Content Parsing.
A job can be created on a file basis, or by selecting individual strings to be included in a job.
Jobs Dashboard
Once you've logged in to Smartling, click the Jobs Dashboard link to see all jobs from your customers, across all accounts. You'll be able to easily view strings in progress, assign translations to resources, run a fuzzy estimate, set due dates by workflow, and address any issues.

Assign Work
From the Jobs Dashboard, you can easily see all the jobs within a given project, or by using the Project filter. (If you have translations that have not been packaged into a job, you will need to drill down into each project to process any translations.)
To assign work to Translators and Editors, click Require Assignment from the left navigation.

Click the name of a job to show the list of translations that need to be assigned to your resource.
Click Assign and select the user(s) to which you wish to assign work. (A maximum of 5,000 strings can be assigned. Repeat to assign more.)

If you'd like to adjust the number of words that gets assigned, select the Translator's name, enter the number of words to assign, then click Adjust Word Count. Smartling will find the set of complete strings with the closest word count that can be assigned.

It may take a few minutes to see updated content available for assignment.
View Job Progress
From the Jobs Dashboard, you'll see the Work In Progress column containing a percentage of completed translations for that specific job. Click the row to see a more detailed view of the job.
Filter for Jobs at Risk or Late Jobs
To filter for jobs at risk of being late or jobs that are late, click Jobs At Risk or Late Jobs from the left navigation. A job will show as being at risk, or late, if the job contains at least one language that has not yet reached the published step.
Jobs at risk are denoted with a vertical yellow bar.
Late jobs are denoted with a red vertical bar.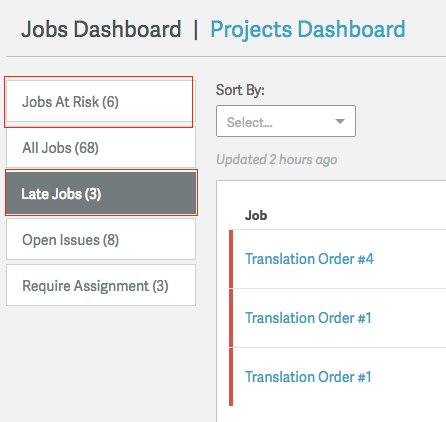 Find Jobs With Issues
To filter jobs with issues, click Open Issues from the left navigation. Under the Issues column, you'll see the number of issues that need to be resolved for each job that has an open issue. If you hover over the number, you will quickly see which language has an issue. In the example below, Germany has one issue.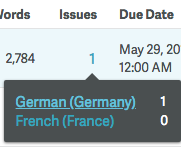 Click on the language with the issue(s). This will open Content > Translations (also referred to as the "List View").
Mouse over the translation to reveal the View Issues link. Click the link to show the String Details dialog box.
Click the issue to Comment or Comment & Close.
Run a Fuzzy Estimate
At any point in time, you can run a fuzzy estimate and download it as a CSV file. You also have the option to re-run a fuzzy estimate (Refresh Estimate). This is useful if your job has changed since the last time an estimate was created.

This fuzzy estimate differs slightly from the one in your Projects Dashboard. In the Projects Dashboard, the estimate is only for the strings in the translation step. In the Jobs Dashboard, the estimate is for all of the content within the job (for the steps that are accessible to you). For example, if a job has 100 words in the translation step and 200 words in the editing step, the estimate will be for all 300 words.
Refresh Data
The data shown in your list of jobs is automatically updated every 3-hours. However, if you wish to manually refresh the data, click the Refresh data link.

You will see the following message: "Refreshing your dashboard... This might take a few minutes." Once the message disappears, your data will be refreshed.
Expand Languages
From within your list of jobs, if you click Expand Languages, you will see each language for each job, along with its associated word count.

Job Attachments
Job Attachments allows for reference files to be associated with a job and accessible to all users who have access to the job or the content in a job. These files are non-translatable and do not go through the translation workflow or count towards word count estimates.
Permissions
Upload: Any user may upload and attach any file to a job.

View and Download: Any user may view and download any file attached to a job.

Delete: Account Owners and Project Managers can delete any file attached to a job. Other roles can only delete the files they have uploaded.
File Types and Size
File types: Any file type can be attached to a job.

Maximum file size: 500Mb

Maximum of 50 attachments
Accessing Job Attachments
Job Attachments can be found through the paperclip icon on the main jobs Dashboard.

Download Translated Files
Agency Account Owner, Translations Resource Mangers, and Translation Resource user can download translated files via the List View. Current downloadable file formats are:
To download translated files from the Jobs Dashboard:
Click the Project name (opens a new tab)
Translations = List View
Downward arrow beside timestamp
Saved Searches in the Jobs Dashboard
When searching for Jobs using a filter-set in the Jobs Dashboard, you may want to save the filter-set for future use. You can now save your filter preset in the Jobs Dashboard by clicking the Save Search button on the toolbar. You will then be prompted to name and save your search and this will appear under Saved Searches, found beneath Preset Searches.
You can rename or delete your Saved Search by hovering over the Saved Search and selecting the pencil icon that appears:

This will open the Edit Saved Search dialog where you can edit the name and click Save, or remove the saved search by clicking Delete.
Saved Searches names have a 23 character limit.