Smartling Projects are configured with a set of languages and linguistic assets. A Linguistic Asset is one of the following:

Your Linguistic Assets are an instrumental resource to your translators. They help translators understand your brand, it's tone, and terminology.
A collection of Linguistic Assets is a Linguistic Package. This is a bundle of settings that determine which of your linguistic assets your projects should provide to translators.
If you have more than one of each Linguistic Asset, they can be bundled up in a variety of ways to make up multiple Linguistic Packages.
On the other hand, a single Linguistic Package can also be shared across multiple projects if they should all follow the same tone of voice and terminology.
There is no limit to the amount of Linguistic Assets and Linguistic Packages you can have in your Smartling account. The number of Linguistic Packages required depends on how you have structured your account into projects.
For example, if the translations for your marketing assets and your website generally use the same style and tone, they can share a package with the same assets and configuration settings.
If a certain project is using a very different style, for example a Legal project that is very different from your web & marketing translations, you can set up a separate package for this project with different assets or settings.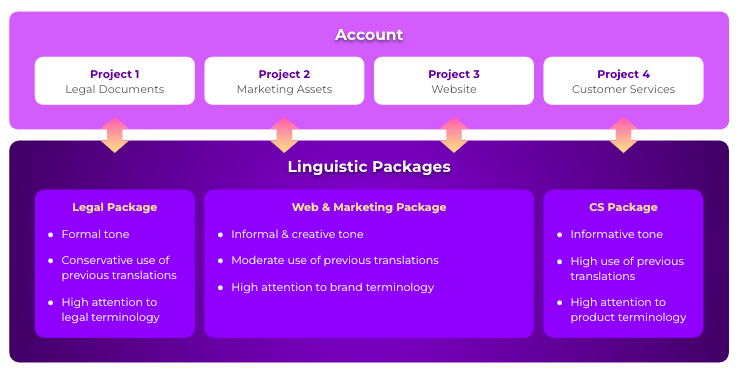 Recommendations
From day one...
We recommend creating your Linguistic Assets, especially your Glossary and your Style Guide, before you begin translating in Smartling. This will help with producing great quality, on-brand transitions from your first Job.
...and always
Your Linguistic Assets, especially your Translation Memory and your Glossary, are living documents and will evolve and grow over time. We would recommend revising your Linguistic Assets and the configurations set up in your Linguistic Packages regularly.
Especially after a re-branding or if new products and services get introduced, it will be important to update your Linguistic Assets and provide the necessary information to your translators.