A Smartling Project is essentially a translation environment, containing translation orders in the form of Jobs. When creating a project, it is important to consider the type of content you will translate in it. There are several types of Projects, which are based on the type of content you want to translate.
Account Owners can create as many Projects as required for the account.
Account Owners must give Project Managers access to the Project, after it has been created.
Each Project will be configured with a Linguistic Package, which you can copy to other Projects or choose to create a new one for each.
Accessing the Project List
All Projects in the Account or that you have access to are listed in the Account Dashboard.
To access the Account Summary Dashboard, click the Smartling logo at the top left of any page in Smartling.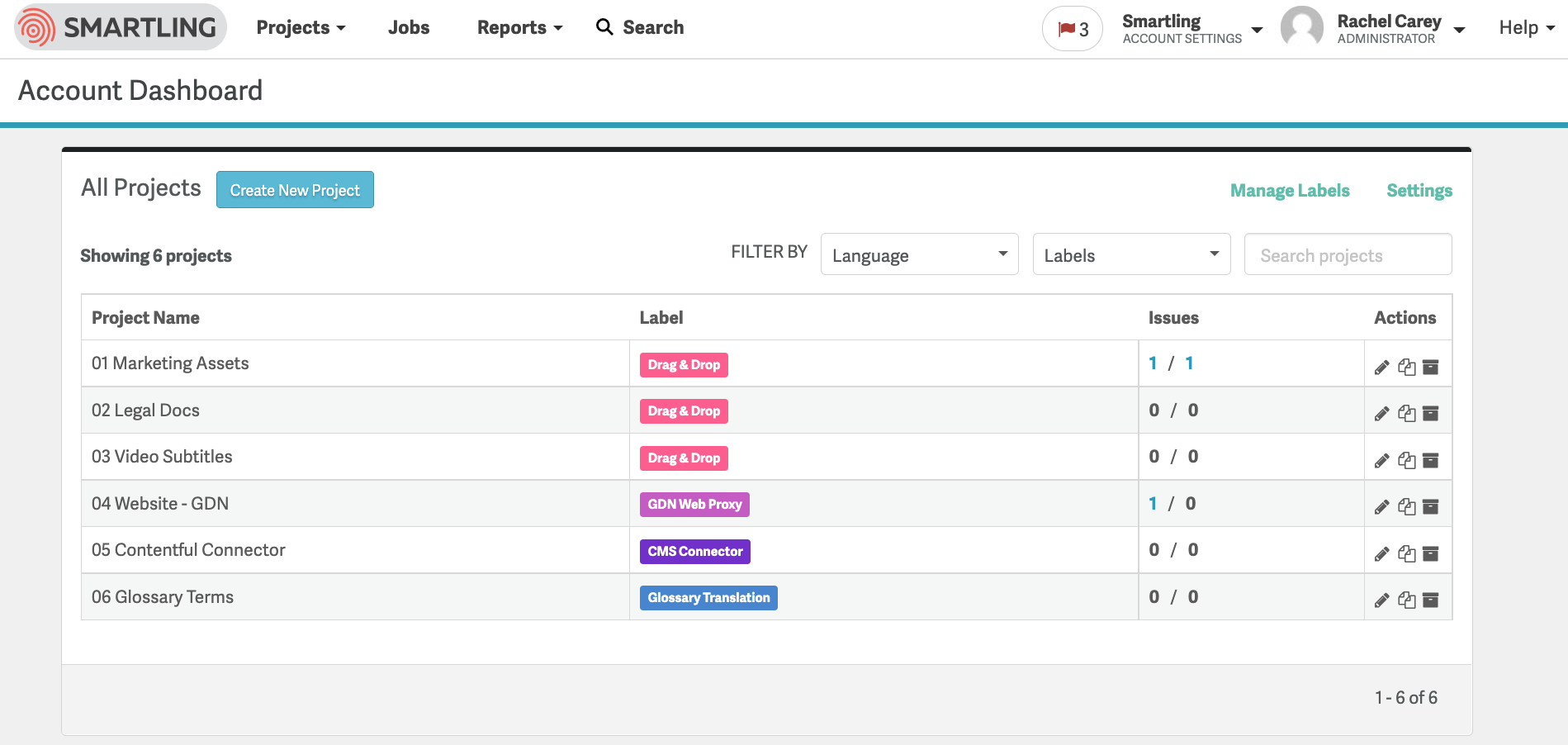 Create a Project
Click the Smartling logo to access the Account Summary Dashboard.

Click the

Create New Project

button

Select a Project type.

C

lick

Next
Enter a Project name

Choose a name more suited to the content you will be translating, such as Marketing.

This name will be displayed in the Smartling Dashboard, CAT Tool, in email notifications related to activity in the Project, and in any reports generated from the Project.

If this is a first Project, or you want to add a new linguistic package to this new Project, click Create New Package.

Select a Source Language you will translate from and Target Languages that you will translate to.

By default, Smartling will automatically provide blank linguistic assets when you set up your first Project. You can always import any pre-existing assets to Smartling at a later stage.

If this is not a first Project, you can choose to add an existing linguistic package to this new Project.

This will copy and existing language pairs and linguistic assets to this new Project.

Click Create Project to finish.
Growth customers cannot create Projects manually. If you are a Growth customer who wants to create a Project, please contact your Customer Support Manager.
Rename a Project
To rename a Project in Smartling:
Click on the Smartling logo to access the Account Dashboard.
In the Actions column, click the pencil icon for the Project you wish to rename.
Type in your desired Project name in the Project Name field.
Click Save or Cancel to exit.
Project Types
When creating a new Project, it is important to choose the Project type that aligns with your technology solution or the type of content you will be translating.
There are 4 main Project types, each with sub-categories:
Mobile
This Project type is for translating mobile content via files, such iOS, Android, and Windows Phone string files
Apple iOS: iOS application resources including .strings and .xliff files, store descriptions.
Android: Android XML resource files, store descriptions.
Windows Phone: Windows Phone application resources.
Web
This Project type is for translating web content via the Global Delivery Network
Global Delivery Network (GDN): Content captured directly from your existing website or web application.
Files
This Project type is for translating content via files
Resource Files: Translate content from industry-standard file formats such as JSON, XML, YAML, Gettext, Java Properties, or XLIFF.
Business documents: Translate content in Microsoft Office document formats, including DOCX, XLSX, PPTX, and DOC, plus Adobe InDesign documents.
Media: Translate video subtitle SRT files and add video context from .mp4 files.
For a complete list of supported file formats, see Supported File Types.
Connector
This Project type is for translating content via a Smartling connector to a third-party system.
See the full list of Connectors and Plugins here.
Project Settings
To access a Project's settings:
Enter the Project (by clicking the Project name) and click the Settings tab (pictured)

From here, you can:
View the Project details, which include:

Project name
Project type
Organization ID (for integrating with the API or Context)
Project Manager users

Add a new language to the Project
View and update your Connector Configuration (if applicable)
Sometimes it is helpful to quickly open a new Project, and you may want to stay on the same tab (e.g. the Settings tab) in the new Project. To visit the current tab in a new Project:

1. Open the Projects dropdown menu
2. Hold the Option key (for Mac keyboards) or the Alt key (for Windows) on your keyboard.
3. Click the target Project you would like to open on the same tab.

If the current tab is unavailable in a different Project (for example, when navigating between different Project types), you will be directed to the closest available option.