Create & Manage Projects
A Smartling Project is essentially a folder of work that contains one or more Jobs. There are several types of projects, which are divided based on the type of content you want to translate.
Account Owners can create as many projects as required for the account.
Account Owners must give Project Managers access to the project, after its created. Each project will be configured with a Linguistic Package, which you can copy to other projects or choose to create a new one for each.
Create a Project
Click the Smartling logo.
Click Create New Project.
Select a project type.
Click Next.
Enter your project details:

Name: Display name for your project
Linguistic package: Linguistic package to apply to the project
Add new languages
If a GDN project: Website URL
If a Connector project: Connector type

Click Create Project.
Growth customers cannot create projects manually. If you are a Growth customer who wants to create a project, please contact your Customer Support Manager.
Rename a Project
To rename a Project in Smartling:
Click on the Smartling logo to access the Account Dashboard.
In the Actions column, click the pencil icon for the project you wish to rename.
Type in your desired project name in the Project Name field.
Click Save or Cancel to exit.
Project Types
When creating a new project, it is important to choose the project type that aligns with your technology solution or the type of content you will be translating.
There are 4 main project types, each with sub-categories.
Mobile: for translating mobile content via files, such iOS, Android, and Windows Phone string files
Apple iOS: iOS application resources including .strings and .xliff files, store descriptions.
Android: Android XML resource files, store descriptions.
Windows Phone: Windows Phone application resources.
Web: for translating web content via the Global Delivery Network
Global Delivery Network (GDN): Content captured directly from your existing website or web application.
Files: for translating content via files
Resource Files: Translate content from industry-standard file formats such as JSON, XML, YAML, Gettext, Java Properties, or XLIFF.
Business documents: Translate content in Microsoft Office document formats, including DOCX, XLSX, PPTX, and DOC, plus Adobe InDesign documents.
Media: Translate video subtitle SRT files and add video context from .mp4 files.
Connector: for translating content via a Smartling connector to a third party system.
See the full list of Connectors and Plugins here.
Giving Users Access to Projects
Once the Account Owner creates a project, they must then give Project Managers and other users on the account access to the project. Project Managers can follow these steps to give users access to the projects the Project Manager already has access to.
Go to Account Settings > Team
Click the user tile
Under Details, click the Projects field to see a full list of your projects.
Select the project name or type the project name and then select from the list
Clone a Project
A cloned project has the same languages, users, and settings as the source project, but no content or context files. All project-level workflows will be copied to the cloned project, and users will have access to the same workflow steps.
Cloning is useful if you expect to launch new projects frequently, or you want to organize your content into separate projects with similar settings. It's also a quick way to get started on a new project with your usual settings.
To clone a project:
Click the Smartling logo to bring you to the Account Dashboard.
Under the Actions column, click the clone icon for the project you wish to clone.
Enter a project name and the languages to which you wish to translate.
Click Create New Project.
Project Labels
For accounts with multiple projects, it might be useful to label the projects so assist in your translation project management. Labels provide a visual aid on your Account Dashboard.
To manage project labels, on the Account Dashboard, click Manage Labels.
From here, you can create, edit, or delete project labels.
To create a label, click Add Label

Input your label name and add a label color
If you are creating a child label, choose a parent label from your previously created labels in the dropdown.
Click Save Changes

To edit a label, click the pencil.
To delete a label, click the bin.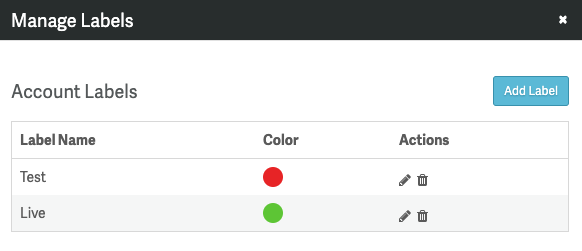 Applying Project Labels
To apply a project label to a project, from the Account Dashboard;
Under Actions, click the pencil to edit the project
Here you can rename the project and apply a project label.
Click Save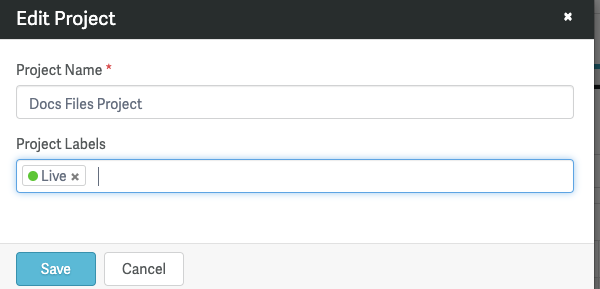 For a complete list of supported file formats, see Supported File Types.
Archiving a Project
You can archive a project that's no longer needed or in use. This will remove it from the dashboard, and will prevent Translators from going into this project. An archived project is not permanently deleted and can be unarchived at any time.
Any strings that are currently in translation will remain in translation when unarchiving the project. All completed translations will be saved in the translation memory and can continue to be leveraged. To configure a new project to leverage translations that are in an archived project, see Configure Translation Memory Leverage.
Archive a Project
Click the Smartling logo to go to the Account Dashboard.
Find the project you wish to disable, and in the Actions column, click Archive Project to disable the project.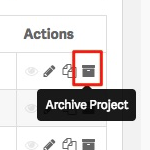 Confirm your selection.
Re-Enable an Archived Project
Click the Smartling logo to go to the Account Dashboard.
Click Settings and enable Always display archived projects.
Click Save.
Find the project you wish to disable, and in the Actions column, click Unarchive Project to re-enable the project.