Machine Translation in the CAT Tool
Machine Translation (MT) is the translation of source content to a target language, performed by AI rather than by human translation resources. For this reason, Machine Translations are not stored in the Translation Memory, but are counted as Processed Words.
Enabling MT in the CAT Tool
MT must be enabled for use in the CAT Tool.
To enable MT in the CAT Tool:
Go to Account Settings > Integrations.
Click CAT Tool Settings.
Click the toggle ON to enable MT in the CAT Tool.
Default Profile
The default profile is the MT provider that you want used in the CAT Tool. Choose from the dropdown list of profiles configured on the account. For more information on how to configure MT Profiles on an account, see Creating an MT Profile.
Optionally, you can define language-specific rules to use different MT Profiles for different languages in the CAT Tool. For example, you can define "Google MT" as your default MT Profile and "Microsoft MT" for French and Spanish.
Using MT in the CAT Tool
MT can be found in the CAT Tool under Language Resources panel.
In this panel, a user in the CAT Tool will find the following insertable resources:
Translations Memory
Glossary terms
Machine Translations (if enabled)
Click or use a shortcut to insert the resource, and use as a translation of the string. The insertable can be modified once inserted as a translation.
MT & Glossary Terms (BETA - ES only)
If you use MT to translate any English to Spanish language pairs, you can enable glossary support for MT in the CAT Tool. When enabled, it works for both the Language Resources panel and for MT pre-populate function.
How it works
If your source content contains a glossary term with specific Spanish translation and formatting, you will see it treated this way in the MT suggestion in the Language Resource panel, and if MT pre-populate is enabled in your CAT Tool Preferences, in any pre-populated MT translations.
See below example of a glossary term "hello" and the term's Spanish translation "Holaaa". The specific translation is also included in the MT suggestion. If MT pre-populate is enabled, this MT suggestion would be automatically inserted as the translation.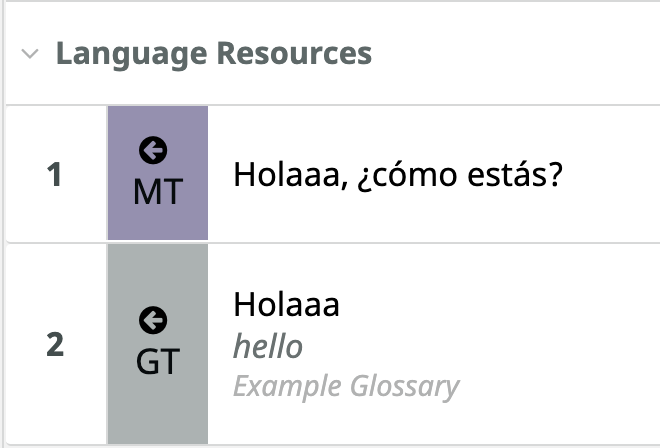 Talk to your Customer Success Manager about enabling this feature on your account.