As an Account Owner or Project Manager, you can give as many new users as you like access to join your account by sending them an invitation by email, all free of charge. For more information on each user role type, read our documentation on Understanding User Roles in Smartling.
This article outlines the two steps you need to take to add a Project Manager and/or Requester user to your account. For information on how to add a linguist, read Add and Assign Your Team of Freelance Translators and Internal Reviewers. For information on how to add an Agency to your account, read Add an Agency.
Note: If you intend on re-adding a previously deleted user email address to Smartling, contact your Smartling Representative to re-activate the deleted email address.
Step 1: Invite them to Smartling
Go to Team > Users
Click Add User
Click on the role you wish to grant the new user
Select one or more projects to which you wish to grant the new user access
Enter the new user's email
Click Confirm to invite the new user, or Cancel to exit
Step 2: Give them access to projects
Once the Account Owner invites users to the account, they must then give Project Managers and Requesters on the account access to projects. Project Managers can follow these steps as well to give other Project Managers and Requesters access to the projects the Project Manager already has access to.
Go to Team > Users
Click the user tile
Under Details, click the Projects field to see a full list of your projects
Select the project name or type the project name and then select from the list
Example Email Invitation Sent to the User
To ensure the new user can activate their Smartling account, make sure and notify the recipient, so they are aware to check for the following email: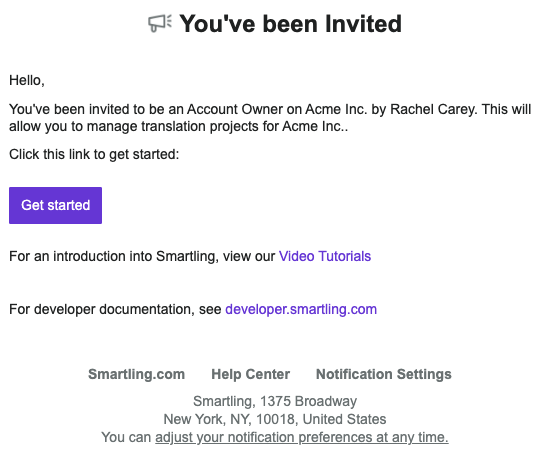 Simply c

lick the Get started button to open the registration screen.

Complete all fields and create a password (including an upper case, lower case, number and special character)

Click

Register

. The Smartling Account Dashboard appears.
As this is from a "noreply" email address, ensure to check Spam and make noreply@smartling.com a safe sender to your mailbox.
What's Next?