Figma Plugin Installation and Setup
Within Figma, you can send and receive translations performed within Smartling. The integration is intended to allow organizations to start translation earlier in the Software Development process. Rather than waiting for Development to complete, users can now perform automated translations prior to Development beginning. Using the Figma plugin will also provide automatic Visual Context for linguists in the CAT Tool for images up to 50M pixels.
Although the Figma plugin is visible in the Figma browser, it is currently only accessible via the Figma Desktop app.
Download Figma Desktop App
Log into Figma browser
Click the menu on the top left corner
Click Ger Desktop App
Follow the install instructions
Create a Files Project
To get started, you create a new Smartling project and select "Business Documents" as the project type. See here for more instructions on how to Create a Project.
Download the Smartling Figma Plugin
Launch Figma Desktop App

Once you've installed the plugin, you'll need to connect it to your Smartling account
Connect the Smartling Figma Plugin to Smartling
Open a new or existing Figma file.
In the Figma menu (top left), click Plugins > Smartling. Here you'll notice all the translation features available.
Select the Smartling Account option
The Smartling Account section will open a browser to prompt you to authenticate with Smartling. Sign in with your Smartling credentials. When finished, you select the Smartling Project and click Save.

You can close the dialog by clicking on the X in the top right corner after the dialog confirms your selection.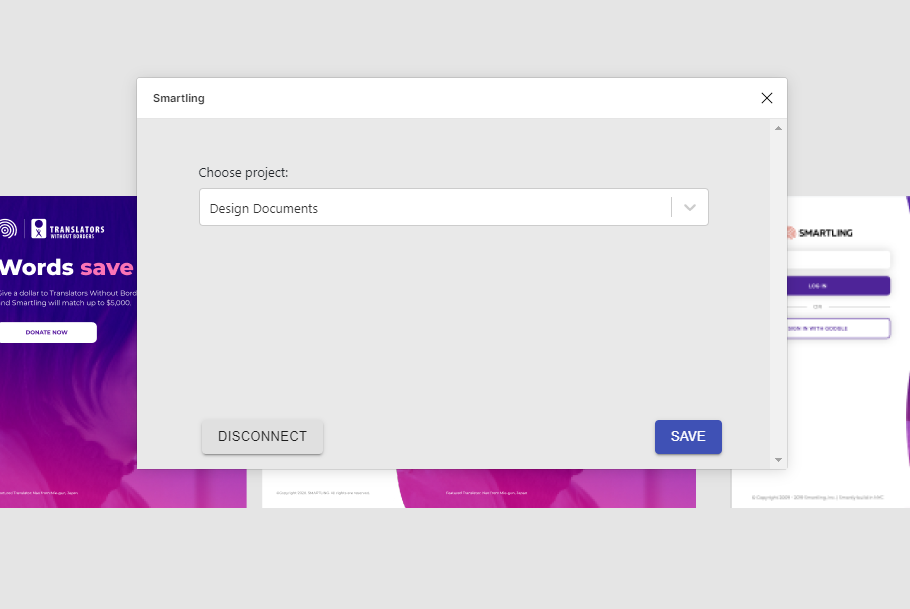 Now you're completely configured and ready to begin translating!