Within Figma, you can send and receive translations performed within Smartling. The integration is intended to allow organizations to start translation earlier in the Software Development process. Rather than waiting for development to complete before your application is localized, you can now perform automated translations before development begins.
Using the Figma plugin will also provide automatic Visual Context for linguists in the CAT Tool. The default is to submit visual context of the whole page, however only images up to 50M pixels, or 25 MB on the entire page are visible in the CAT Tool. Alternatively, you can choose to submit images as frames, which provide full visual context with no limitations.
Although the Smartling Figma plugin is visible in the Figma browser, it is currently only accessible via the Figma Desktop app.
Limitations
As mentioned above:
Images must be under 50M pixels or 25 MB.
The Smartling plugin only works on the Figma desktop app
Download Figma Desktop App
Consult Figma documentation for the latest guide to the Figma app.
Create a Files Project in Smartling
Download the Smartling Figma Plugin
Launch Figma Desktop App

Once you've installed the plugin, you'll need to connect it to your Smartling account
Connect the Smartling Figma Plugin to Smartling
Open a new or existing Figma file.
In the Figma menu (top left), click Plugins > Smartling. Here you'll notice all the translation features available.
Select the Smartling Account option

The Smartling Account section will open a browser to prompt you to authenticate with Smartling.

On the browser, sign in with your Smartling credentials

Select the Smartling project you want to submit Figma content to for translation
Choose to create visual context by frames instead of whole page (recommended)

Enabling this setting automatically sends text frames as visual context

Text nodes outside of frames will be sent for translation, but will not have visual context in the CAT Tool

Enabling this setting is recommended to ensure linguists have visual context to translate large files, as this removed the 50M / 25MG image limitation

We recommend grouping text and images by frames in Figma before submitting file for translation

Frames within frames are not submitted to Smartling

Sections or slices are not yet supported

Choose to exclude irrelevant strings

Enabling this setting prevents any string that does not contain words from being submitted for translation

E.g. strings with just characters, emoji's and numbers are not sent for translation

Choose to remove all formatting before submission:

Enabling this setting removes any HTML markup from the submitted file, so linguists only see text for translation

This also removes the markup from the translated version

Choose to remove invisible text nodes:

Enabling this setting will ensure only visible text nodes are sent for translation

If the file has invisible text nodes (hidden) that you do not want translated, enabling this setting removes them from the submitted file

The hidden text nodes are also removed from the translated version of the file

Click Save

Once the confirmation flag appears, you can click X to close out the window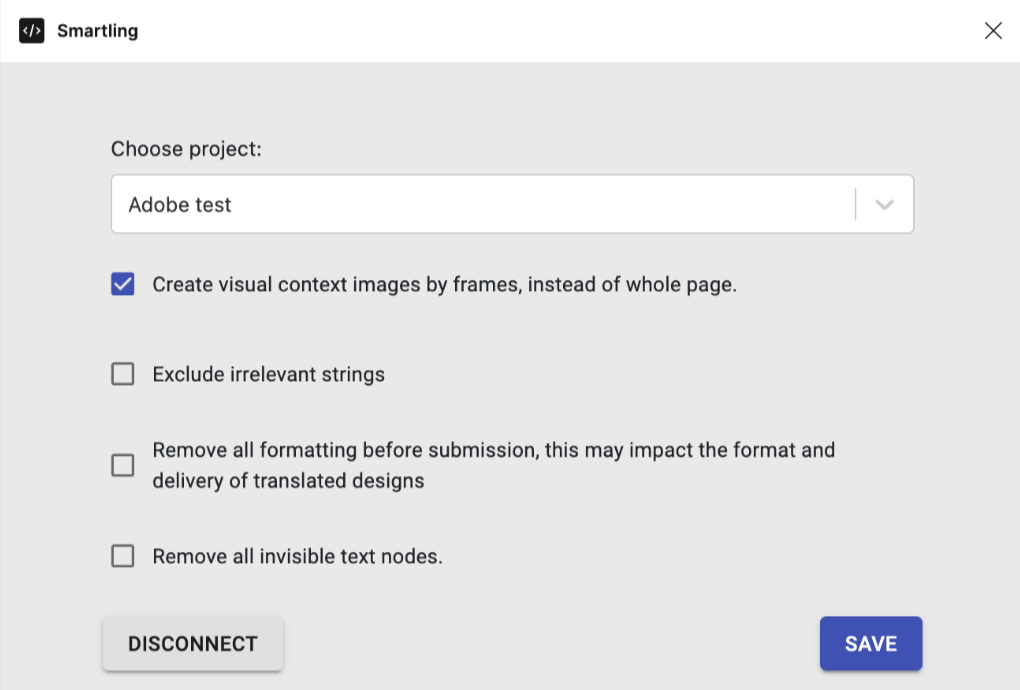 Now you're ready to start translating with the Smartling Figma plugin.