AEM Touch Connector Version History
Version 5.1.3
New Features
You can now translate multiple content fragments simultaneously.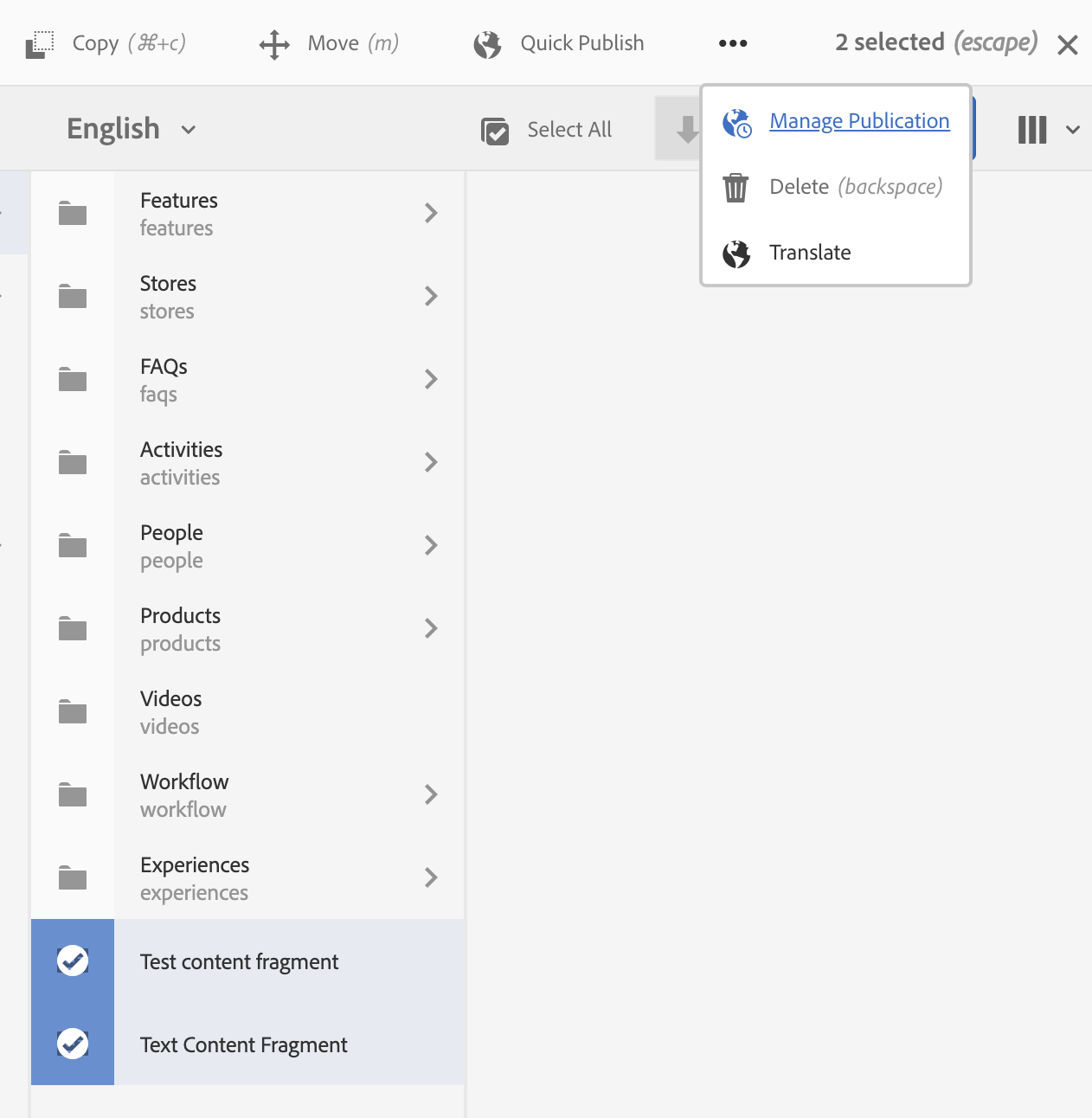 Version 5.1.1
New Features
You can now submit content fragments through the new Translate menu item.





Version 5.0.2
Bug Fixes
Fixed issue where a Smartling job was authorized even when not all AEM translation jobs were created. The translation workflow's polling of uploaded files is only for 20 minutes. After that, the job will be authorized for successfully uploaded files.
For how translation projects in 6.4 are created, we delegate the creation of AEM multi-language translation projects to translate content instead of doing it programmatically. Projects that were created via the "Translate as a Job" Smartling pop-up is now the same as those created through the AEM Reference panel. One project includes one-per-language job translation.
Changed automated launch promotion feature to disable by default. AEM in 6.4 provides a built-in automated promotion. The same Smartling functionality is disabled by default.
Version 5.0.1
Bug Fixes
Fixed context issue. Context connection(s) was not automatically established due to the issue with getting a list of Smartling configurations.
Version 5.0.0
The AEM Touch Connector version 5.0x will only work with AEM 6.4 and above. (AEM Touch Connector version 4.0x will only work with AEM 6.3 and below.)
Bug Fixes
Fixed getting Smartling configuration by page path.
Fixed Smartling UI styles: Translate as Job menu item
Added the new security group: projects-smartling-default-project-translationreviewer
Version 4.1.2 and 4.1.3
Bug Fixes
Fixed locale format check provided by Smartling using locale mapping.
Fixed removal of live relationships on the target translation resource.
Version 4.1.1
Improvements
Added property mappings for translated properties, which allows you to specify how Smartling should parse each property's content.



The Test connection button now checks the context connection, which simplifies troubleshooting by letting you know when context is not configured.

We now prevent a stuck page in the workflow if one of the workflow steps has a validation error, or if no AEM translation project was created.
Bug Fixes
Resolved an issue where the connector was unable to upload all requested languages.
Version 4.0.15
Improvements
Added capability to configure Custom Placeholder.

Version 4.0.14
Improvements
Improved the behavior for when something went wrong while creating jobs for translation via AEM. Now, the connector waits 20 minutes for the new job, and if all AEM translation jobs aren't created, then an error is written to the log summarizing what was and wasn't created.
Bug Fixes
Fixed the behavior of the Force resubmission (Required if page is unchanged) option when Include all Sub-pages is also checked.

Version 4.0.13
Bug Fixes
You'll need to reset your browser's cache to ensure that the new Smartling Javascript version will load. (Reset cache by selecting the "Cached images and files" option.)
Fixed page submission in Smartling popup. (Previously, the page could be submitted regardless of validator status. Now, the connector allows page submission only if all validators have no errors.)
Fixed resetting validation errors icon on the Smartling popup when it's opened multiple times. Validation error icons are cleared when the Smartling popup is reopened, or when a user switches between the Create Job and Add to Job tabs.
Sync a label text on the submit button when user switches between Create Job and Add to Job tabs.
Version 4.0.12
Bug Fixes
Fixed issue with Smartling namespaces for Content Fragments. When you update original content and resubmit it to Smartling, AEM generates unique file names. The connector uses the same namespace in order to share strings of the same asset in different files.
Fixed length of auto-generated Smartling job name (when you submit pages via References panel instead of Smartling popup). Previously, it could be too long and was rejected by Smartling.
Version 4.0.11
Improvements
Reset the cache of your browser (select the "Cached images and files" option) to make sure that the new version of Smartling java-script will be loaded.
Added the new validator to the Smartling pop up that validates that the checkbox Auto-execute is set in the Translation Integration configuration.



Implemented a workaround for the inconsistency bug in AEM. You may notice this bug when you submit a brand new page for translation, but sometimes it doesn't appear in Smartling. If you check your AEM projects, then you may see that a submitted page is present in a randomly generated translation project instead of a project that was passed to an AEM translation framework. In a nutshell, the Touch connector creates non-existing language copies before asking AEM to translate pages. It's done by the new step in the Smartling workflow. If you want to revert this improvement, then you can just remove the workflow step.

After this release, you should no longer see files in Smartling jobs with auto-generated names. As well, messages in logs such as this, should be removed:
Translation object in project path="/content/projects/smartling-auto/2018/08/03/user_-_italian-22-20-56-707" is not committed for translation yet
Version 4.0.10
Improvements and Fixes
Improved package installation behavior for customized language mapping. Previously, if you installed a new version of the AEM Touch Connector, it would overwrite your custom language mapping. With this new version, the connector will try to merge your custom language mapping with the default language mapping.
Added workaround for the issue when AEM tried to re-execute a completed translation workflow instance, more specifically when components such as ExternalProcessJob* are restarted. For unknown reasons, AEM took all instances of the workflow steps that implement WorkflowExternalProcess interface and tried to re-execute them. As a result, the Smartling workflow steps tried to resubmit pages. The connector now tries to detect multiple incorrect executions and do nothing with adding them into the log. Example: wfStep="Send Page for Translation" has been already executed.
Version 4.0.9
Improvements and Fixes
You can now you can use https in context configuration.

Added a new option which allows resubmission of original page to Smartling, even if it was not modified. By default, the AEM translations framework does not allow this.

Attach files to Smartling jobs when submitting pages from the References panel. It's not recommended to use the References panel, but if you have to submit pages, then the Touch connector will take care of it, and will create a Smartling job with the attached files.

Version 4.0.8
Improvements and Fixes
Improved stability of Automated Launch Promotion. (Previously, it would try to promote the same launch twice when it received multiple concurrent events from AEM.)
Restored functionality of notifying user as soon as upload is completed or failed. The connector creates task in the inbox.


Version 4.0.6
Improvements and Fixes
Connector now always uses TLS1.2 for HTTPS connections regardless of Java version. (It was TLS1.0 for Java 7.)
Improved error handling edge case when AEM translation project is created and configured but then the Smartling configuration gets deleted.
Version 4.0.5
If version 4.0.4 has been installed to AEM, Adobe Consulting Services should be deleted from packages, manually.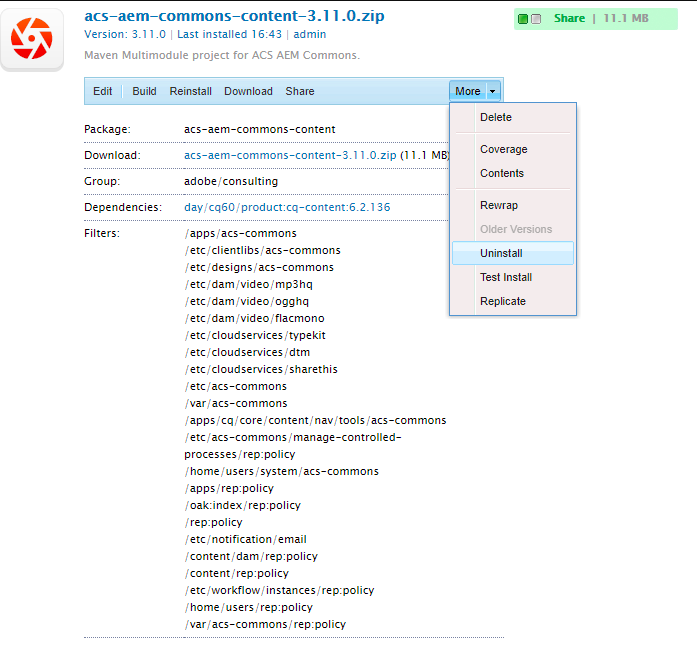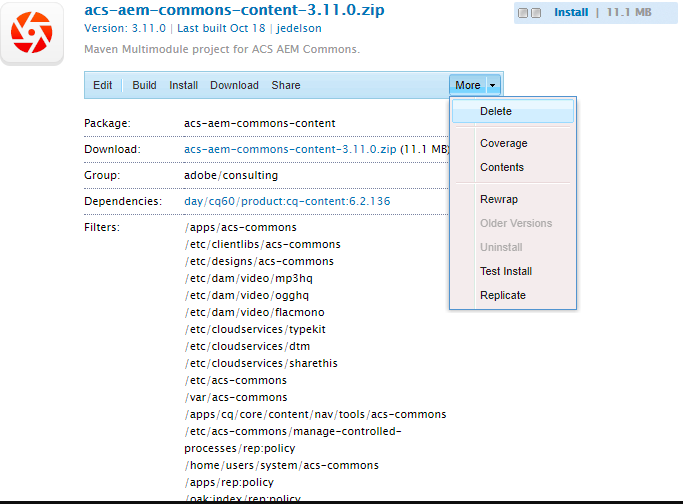 Improvements and Fixes
Removed Adobe Consulting Services as it brings several dependencies that can't be satisfied in a variety of AEM instances.
Fixed validation for target locales. Previously, target locale validation was case sensitive, so if a page was submitted for 'de_DE locale' and language mapping was configured for 'de_de locale', validation would fail.
Added possibility for providing callback URI.

Enabled Launch Promotion by default.

Extended parse JSON configuration by providing possibility to add fields that will be sent to Smartling along with 'smartling.translate_paths' directive.

Added test connection button, so the user can test whether the provided credentials are suitable for configuration.

Added validation within the submitting page, so now the error is shown right after the submission.

Version 4.04
Improvements and Fixes
Added inbox notifications. From now on, you will receive an email notification when a request is completed. The notification will either contain a link to a Smartling job, or a reason as to why the submission request failed. For example, if all locales are filtered in the initial step due to the fact that the appropriate language copies are up to date, or missing language mapping configurations, then you will see an error. In screenshot below, the results of three submissions are shown: one successful, and two with errors (see from bottom to top).

Fixed issue with missing folder title. When you a submit page for translation, the Touch connector creates folders for storing AEM translation projects. Before, these folders didn't have a title.
Fixed issue with how connector detects that the translated page is up to date and should not be submitted to Smartling. Fixed comparison source page, last modified date, and language copy last modified dates.
Version 4.0.3
Improvements and Fixes
Modernized flow in order not to create AEM translation project for up to date language copies. If nothing has changed in a source page, content shouldn't be submitted and project shouldn't be created for those locales, for which content has been sent.
Version 4.0.2
Improvements and Fixes:
Extended String Duplicates processor in order to allow user to configure name space that is sent along with the file. When Use legacy namespaces is checked, strings will be shared across files on the same page, otherwise, content for each language will be uploaded as a unique string.

Version 4.0.1
Improvements and Fixes
Fixed NPE for Automated Launch Promotion feature.
Fixed issues with locale mapping. AEM locale code was used for Jobs API calls (instead of Smartling locale code).
Improved logging:
Added more logging for jobs related operations.
Removed sensitive information from logs (Smartling refresh and access tokens).
Better handling of error case when pages were submitted to job but no new strings were added.
Updated log messages when asset doesn't have translatable strings or asset format is not supported (examples: PNG, PDF).
Version 4.0.0
Important: This release contains 2 major changes.
Use our new version of Jobs: Smartling account must be switched to the new version of Jobs before using this version. Please contact your Smartling Account Manager.
String sharing: Changed behavior of string sharing: We used to share strings across all locales of the same page. Now, strings that belong to the same page, but with different locales, are interpreted as different strings. For example, you submitted a page for two locales, and as a result, AEM uploaded two files to Smartling. Strings in these two files are shared, and each string is authorized for two locales. If you upload a page for two locales with the new version of the connector, then the two files will upload, but this time, the strings from the first file will be authorized for one locale, and strings for the second file will be authorized for another locale.
Important: This will affect your existing translations. If you changed a page that was previously translated, and submitted it to Smartling, all strings will then be ingested as "new", and translations will need to be reapplied from the translation memory.
Improvements and Fixes:
Integration was migrated from Jobs API v2 to v3.
Pages now can be attached to existing job in any state (Awaiting Authorization, In Progress, Completed).
Job may contain files that are authorized for different locales.
Version 3.3.2
Improvements and Fixes:
Authorize job checkbox in the New Job dialog is now unchecked by default.
Version 3.3.1
Improvements and Fixes:
Translation Job Support: Allows submitting of pages even if they were not modified after the last translation.
Automation: Fixed an issue that caused pages to be deleted when a launch is promoted.
Got rid of the deprecated API usage: All background operations are performed on behalf of smartling-touch-connector user instead of admin. To achieve this, a new service user is created with ID smartling-touch-connector. This user is granted Read-Write access to /content and Read access to /etc (as well as, Read-Write access to the connector's internal folders, under /apps and /etc).
Version 3.1.1
Improvements and Fixes
Fixed issues with HTTP proxy support
Fixed issue with submitting content when the target locale is disabled in Smartling.
Version 3.1.0
Improvements and Fixes
The connector now uses Smartling API v2 and is not backwards compatible with earlier versions. After installing you must create v2 credentials and add them to each Cloud Configuration.
Improved context capture performance.
Fixed issue with missing context on some configurations of AEM.
A separate log file smartling.touch.log has been created to capture all the log messages coming from the Connector.
Improvements and Fixes
Improved performance of the connector under heavy loads.
Version 3.0.0
Improvements and Fixes
Support for AEM 6.2 with the following limitations:
Due date on a translation job is not supported even if set on the AEM side.
Reject translation from AEM is not fully supported: once translation is rejected in AEM, the only option is to cancel all the translation job manually, wait until translation is corrected and request translation once again as a new job in AEM.
Version 2.2.0
Improvements and Fixes
Added the ability to configure an HTTP proxy in a single place to be used by the connector - via Felix OSGi Console, Smartling - Network Settings configuration entry.
Support anonymous proxy configuration via Java System properties.
Fixes to translation context to improve quality and make troubleshooting easier.
Version 2.1.0
Improvements and Fixes
Improved string sharing behavior for the case where multiple versions of the same page are being translated at the same time. As of the version 2.0.0 strings have been shared within a page, but if the page was copied into one or more launches then strings in these copies were considered completely different. As of 2.1.0, strings are shared among the page and all its versions in different launches.
The connector package has been renamed from "Smartling Translation Connector" to the "Smartling-Translation-Connector". We recommend to manually remove the old package after installation.
Version 2.0.0
Improvements and Fixes
The string sharing behavior in Smartling TMS has been significantly changed in this release:
Identical strings on different pages are treated as unique strings in Smartling.
If a page was submitted more than once as part of different Jobs, Smartling continues to share translations along all copies of the page.
Users can now control how Smartling should treat identical strings on the same page. Duplicates can be ingested as a single string or as unique strings. This feature is disabled by default but can be enabled from the Configuration Console.