What is Translation Memory Match Insertion?
Translation memory match insertion allows Account Owners and Project Managers to configure the percentage of translation memory (TM) leverage that can be automatically inserted by a Machine Translation (MT) Profile as its translation. The matched strings skip the translation step entirely, accelerating the translation process. Furthermore, the automatic insertion of TM strings saves translation costs associated with the MT Profile.
How it works
Setting a threshold of 80% means that all TM matches of 80% or higher will be inserted as translations in a workflow translation step which uses the MT Profile. Any strings with TM matches of 79.9% or lower are machine translated by the specified MT Profile. 
Translation Memory
The translation memory used by the MT Profile in a Job depends on the project the content is translated in. The MT Profile leverages the translation memory assigned to the linguistic package in the project. This ensures the MT profile uses the correct translation memory within the project it is translating in.
Workflows
TM Match Insertion is currently only available on workflow steps that are configured with an MT Profile as the translation provider. It is available to use with any MT Profile, except copy-source-to-target workflows.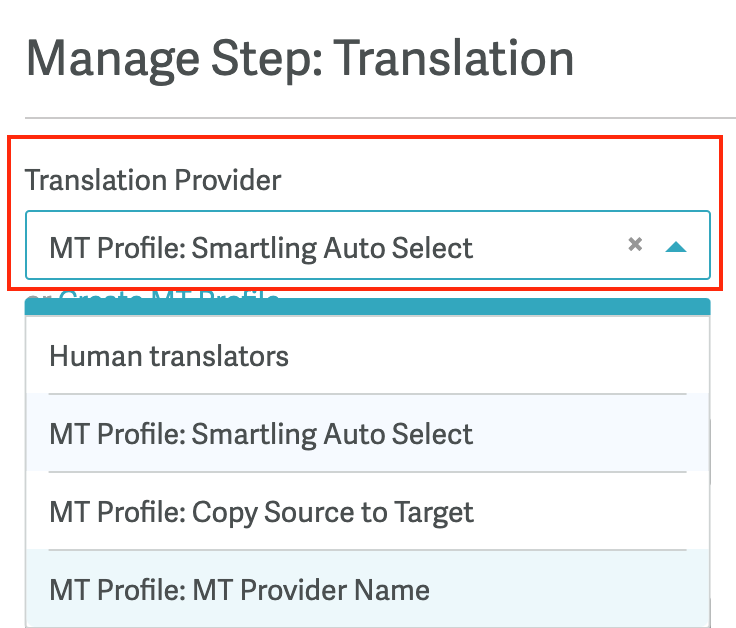 How to enable Translation Memory Match Insertion
In Smartling, go to Account Settings > Machine Translation Settings
Click the Profiles tab
On the MT Profile you want to enable TM Match Insertion on, click the "Disabled" link under the TM Match Insertion column
Switch the toggle On to enable TM Match Insertion
Configure the TM Match percentage that should be leveraged by the MT Profile

TM matches that are the same or above the threshold are automatically inserted as the translation and skip the MT translation step
The rest of the strings are translated by the MT Profile