Word Count Report
This article is for Account Owners, Project Managers, Agency Account Owners, Translation Resource Managers, Translators, Editors, and Reviewers.
The Word Count Report shows a break down of completed work during a specified time period. 
The report can only be generated for up to a 1-year date range. If you would like it for a greater time period, consider generating multiple 1-year reports and combine them offline, or contact your Smartling Customer Success Manager.
Some common use cases for the Word Count Report include: 
Account Owner / Project Manager might want to view historical translations from an account to analyze outside of Smartling to help inform a business decision.
Agency Account Owner / Translation Resource Manager might review work that has been completed in previous months for invoicing purposes.
Translator / Editor / Reviewer might want to view work that they completed during a specific time period.
Filter and Run Report
The column headers that you will see when accessing the Word Count Report will be based on your Smartling user role.
To access the report, log in to Smartling and select Reports > Word Count from the top navigation. Before running the report, you can filter by:
Account
Project
Start/End Dates
Use Include to add or remove fields from the report, such as Translation Resource, Job Name, and Fuzzy Match Profile. Once you've selected the desired filters and information to include, you can run the report or download a CSV file.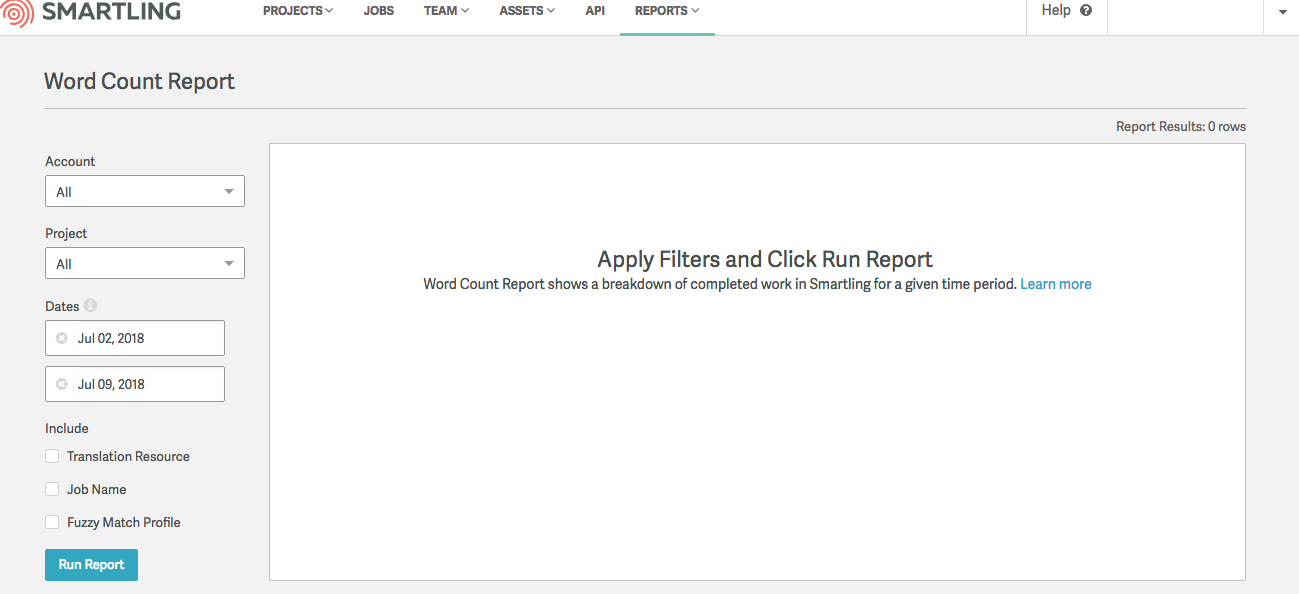 To view a report for a specific job, See Translation Activity Report.