Get a Cost Estimate
This article is for Account Owners and Project Managers.
You can generate a cost estimate for your translation project. Each cost estimate takes into account the rates to which your translation vendors have agreed, any translation memory leverage; and repeated content within the project itself.
Estimate Via Jobs
If you've packaged your content into a job, you can generate a cost estimate for that job.
Estimate Via Translations (Classic)
If your content has not been packaged into a job, you can generate a cost estimate for a specific set of strings to be translated.
Go to Projects (select a project) > Content > Translations.
Select Awaiting Authorization from the drop down menu near the top left of the page.
Click the checkboxes for the strings for which you'd like to run an estimate.
After strings are selected, click Actions > Estimate.
A side panel will open, click Create Estimate, select the languages you'd like the estimate for or Select All Languages then click Estimate.
The estimate will show up in the same box under Previous Estimates for your review.
View Estimate Details
To view estimate details for a job, open a job. On the left, under Weighted Words, click View Details. The Estimate Details dialog appears.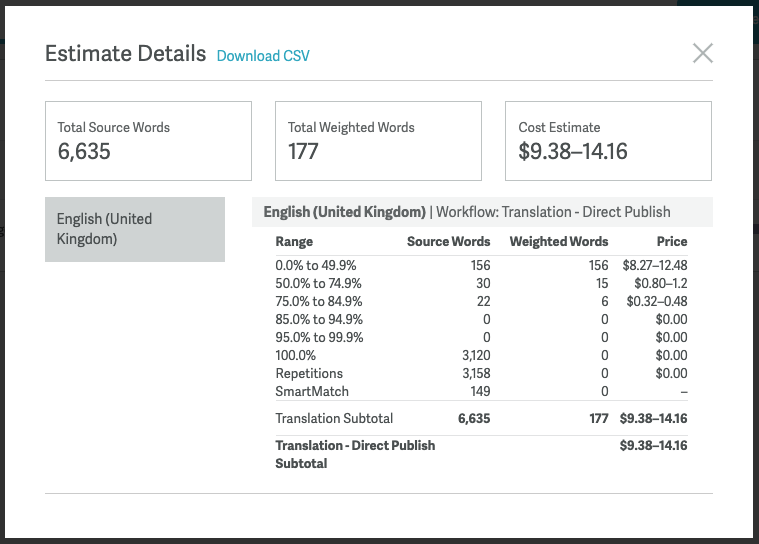 Along the top of the dialog, you can view the total number of Source Words and Weighted Words, as well as the job's overall Cost Estimate.
In the columns below, an itemized list of the words in the job is broken down by fuzzy match tier, 100% match, Repetitions, and SmartMatch into a Translation Subtotal.
You can view each category's Source Words, Weighted Words, and Price by this breakdown to get details on the cost of the job.