Manage User Invitations
You will know if the user has not yet activated their account if their user tile details "User Invited". This will update to the user's name once they have completed registration.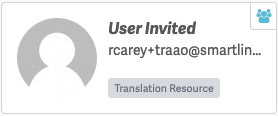 As this is from a "noreply" email address, ensure to check Spam and make noreply@smartling.com a safe sender to your mailbox.
To manage user invitations:
Go to Team > People
Click the user's tile
Click Resend Invite to re-deliver an email invitation to the new user
Click Cancel Invite to remove it from your account and prevent any delivered invitations from being used
Click Change Role to change the user's role