If you use MT to translate from English to any target language, you can enable Glossary support for MT in the CAT Tool. When enabled, it works for both the Language Resources panel and for MT pre-populate function.
To integrate your Glossary with Machine Translation, contact your Customer Success Manager to switch this on in your account.
How it works
If your source content contains a Glossary term with specific translation and formatting, you will see it treated this way in the MT suggestion in the Language Resource panel, and if MT pre-populate is enabled in your CAT Tool Preferences, in any pre-populated MT translations.
Example
Here is an example of a Glossary term "hello" and the term's Spanish translation "Holaaa". The specific translation is also included in the MT suggestion. If MT pre-populate is enabled, this MT suggestion would be automatically inserted as the translation.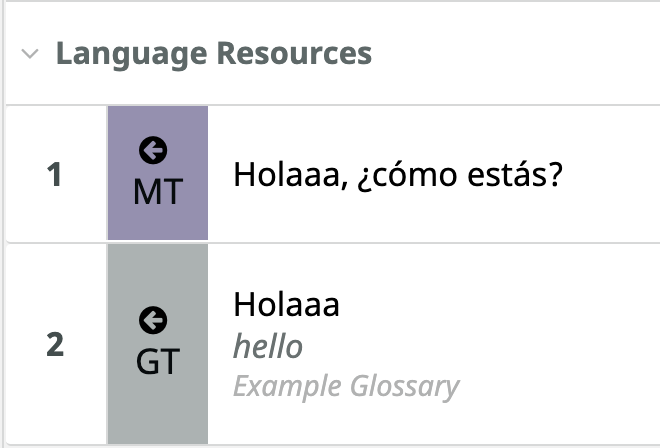 Considerations
Content Types
The quality of Machine Translation is associated with the content type you are translating. MT is not recommended for brand slogans or subtitle translation. These content types will always require a human to ensure the message and tone has not only been translated correctly, but localized accordingly. For this reason, we recommend that you do not use Machine Translation for brand slogans/tag lines or subtitle translation.
Terminology
The Glossary you choose to use with Machine Translation should not contain verbs. Verbs in general typically require a profession human translator to ensure the term is linguistically correct in the string it appears in. For this reason, we recommend that your Glossary does not contain verbs if it will be integrated with a Machine Translation Profile.
Talk to your Customer Success Manager about enabling this feature on your account.