LQA Reporting Analysis
Linguistic Quality Assurance is the process of objectively evaluating translations on the basis of a schema of error types.
The information in the Linguistic Quality Assurance report can be used by your stakeholders to make strategic decisions on your localization process.
It is important to remember that although LQA is highly useful in highlighting areas of focus on your translations, it is one of many ways to assign a quantitative metric to translations. LQA scores are useful, but should not be viewed in a vacuum. Human translation quality simply should not be boiled down to numbers (with no other qualitative quality measurement).
The LQA report does not include the submitted translation (i.e. including edits performed by the LQA reviewer).
Accessing the LQA Report
The LQA report containing all translations that have been evaluated can be accessed via the Reports dropdown.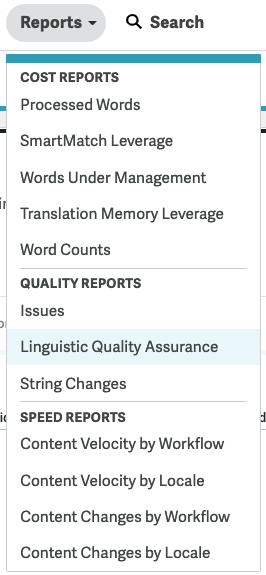 Downloading the Report
The information gathered in this report can be downloaded as a PDF, CSV, or PNG file, and sent directly from Smartling to any email address. This email can also be scheduled to a preferred delivery time and date on a recurring basis.
Additional Resources
For information on how to set up LQA, read our documentation on Setting Up LQA.
For information on how translations are evaluated with LQA, read our documentation on Evaluating Translations with LQA.