Important Information for Migrating to the New Smartling Glossary
The New Smartling Glossary is currently in roll-out. If you have yet to be migrated to the new Smartling Glossary, there are a few important notes to bear in mind. This article covers:
What will be migrated?
The following will be fully migrated from the old Glossary to the new Glossary:
All Glossary entries and translations
DNT flags
Part of speech
Language notes
Term variations
Adding Glossary Terms via the CAT Tool (with permissions)
Request Translation via the Glossary

If you have Glossary terms in translation during the migrations from old Glossary to new, this will not be affected by the migration. The only factor to consider is that to locate the strings in the Stings View, you will have to filter for URI: /Glossary. See Translating Glossary Terms with the New Smartling Glossary for more information.
*Any existing Glossaries with no target languages specified will be migrated over to the new Glossary with all languages in the linguistic package. For more information, see Important Changes to the New Smartling Glossary.
What will not be migrated?
The following will not be migrated from the old Glossary to the new Glossary:
SEO flags - deprecated
Synonyms*
Antonyms - deprecated
*Referred to as Term Variations in the New Glossary, but metadata will not be migrated from the old version to new.
Read ahead to learn how the above can be included in your New Glossary.
What can I do to prepare?
While there is nothing required of you to migrate from the old Glossary to the new Glossary, it may be a good time to preform a Glossary "health-check" to ensure only the most up-to-date and relevant content is ready and available in the new Glossary.
Export your Glossaries
Although this is not essential at all to the migration, it is recommended that you export all of your Glossaries ahead of moving from the old version to the new version. That way, you have a record of all of your termbases, and if anything is missing, you can easily import it once migration is complete.
It might also be useful to export the Glossaries to reapply what will not be migrated to the New Glossary. With an export, you can import any synonyms and antonyms as Language Notes or Term Variations. Furthermore, if you use SEO flags on any terms, an export will help you identify these, and you can then use the new Label Management feature in the New Glossary to label them as such.
Specify target languages
If you are happy to have all languages in your linguistic package included in the new Glossary, skip ahead. However, if you would like your new Glossary to only include specific and relevant languages, you should check the Glossary details.
Go to Account Settings >

Linguistic Assets
Under

Assets, click

Glossaries
Enter a Glossary by clicking a Glossary name
Click Edit Details

From here, you can see what languages have been specified for the Glossary, and make amendments where necessary.

To specify target languages, ensure the Only applicable for selected target languages checkbox has been selected and choose the target languages from the dropdown menu
When you're finished, click Save Changes
Collect image references
The new Smartling Glossary allows you to upload image references for each Glossary entry (see below example of an entry in the new Glossary). Start reviewing your termbase and collecting image reference ready to be uploaded once you have been migrated.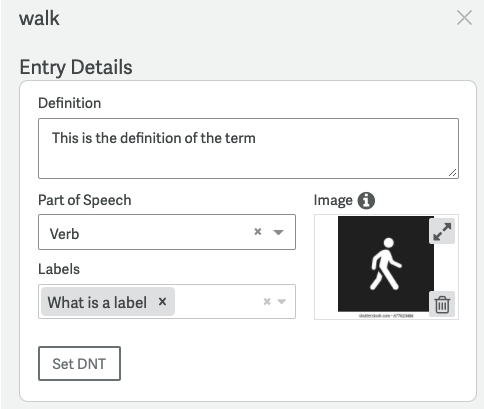 Review, revise, reinvigorate
When was the last time you reviewed your Glossary? Has your brand evolved since then? Probably!
Use this opportunity as the perfect time to delve into your termbase and give it new life. After all, it is recommended to review and refine the Glossary every 6 months.
Smartling provides tools to support this task. Quality Checks highlight when glossary compliance was missed. Perhaps linguists need a broader selection of preferred terminology to reduce these errors. Listen to linguists by reviewing Issues relating to Glossary terms.
Watch our Video Tutorial

Timestamps:
1. Introduction:
What is a glossary? 00:13
How does a glossary work in Smartling? 00:48
2. Demo:
Access your glossary list 03:28
Customize your glossary view 04:37
View & edit glossary entries 06:09
Visual context: 06:43
Set DNT (Do Not Translate) 07:14
Add approved translations (Multi-directional translations) 08:01
Term Variations & Language Notes 08:49
Example strings 09:22
Add a new glossary entry 10:04
Custom fields 11:01
Labels 12:53
Edit & import glossary entries in bulk 14:30
Create & import a new glossary 15:49
Archive & unarchive glossary entries 17:42
Archive & unarchive a glossary 18:30