Linguistic Quality Assurance (LQA)
As a content owner who is responsible for translation quality, you need the right tools to help linguists produce high-quality translations and content. To know quality, you have to measure it. The process of measuring quality is Linguistic Quality Assurance.
Linguistic Quality Assurance (LQA) is a process by which human linguists review translations and, by using standard methodology, determine if they contain any objective errors. Examples of objective translation errors could include, but are not limited to:
LQA can be evaluated from any method of translation, including human translations, machine translations or machine translations with edits. The process of performing linguistic quality assurance begins with the recording of the errors in a set of translations and ends with reporting analysis.
Smartling's LQA feature is instrumental to your localization process in evaluating translation quality, helping you identify areas in translation quality that need improvement to increase the standard of your translations.
If you are currently using Smartling's DQF feature, talk to your Customer Success Manager about switching to Smartling's superior LQA.
LQA Schemas
To make evaluations as objective as possible, a categorized list of errors is required. A translation quality error is a problem in the translation that can be objectively agreed on by most interested parties. For example, if a translation fails to follow the terminology or has a grammatical error those can be considered objective translation errors. A list of these errors are called error topologies or LQA schemas.
Creating an LQA Schema
The standard Smartling LQA Schema is available for use and fulfills the industry standards for recording LQA. However, you can create your schemas. During our BETA program, simply document your desired schema (or modify the Smartling LQA Schema) and share this with your Customer Success Manager to implement your own custom schema.
Smartling will make a user interface for managing schemas available in the web dashboard and via APIs in the near future.
Schemas must consist of categories, errors, severity levels, and a description of each error. The severity can have numeric values style, as seen in the Smartling LQA schema, with any range from 1-100, or have a custom values style, e.g.: "Low-Medium-High-etc". However, styles cannot be used interchangeably, only one style of schema is supported.
There is no limit to the number of categories, errors, or even schemas, but for the purpose of objective quality evaluation, it is recommended to keep each to a reasonable number to be effective.
LQA is available based on a workflow step configuration. Only one schema can be applied to a workflow step.
Each error type must have a default severity value, and this is what the UI will set by default and is editable by default. Optionally, you can specify that the severity is not-editable.
When a user records an error, the severity value will be the default severity, unless the user changes it. When a user decides to record no errors on a string, or skip the string entirely, the translation is evaluated as having no error.
LQA schemas do not support subcategories or attachments.
Getting Started with LQA
To start using LQA BETA, reach out to your Customer Success Manager and confirm the following:
Your chosen schema including the categories and error types and their descriptions

During the BETA program, each account can use only one schema and one severity style (numeric range or named list)
Multiple schemas in an account will be supported in the future

The default severity of each error

If any severity should be non-editable, meaning there could only be one possible severity for the specific error

Which workflow and workflow step you want LQA activated on
Once a schema is created and published, editing is limited. You can add new categories and errors, edit them or disable any of them. Disabling them will prevent new errors from being recorded but does not remove errors that have been recorded using them.
Adding LQA to the Workflow
LQA will only be available on post translation steps. It is recommended that "Automatically submit edits by users" is "off", and LQA is not set up on a step that can be "skipped" in a dynamic workflow.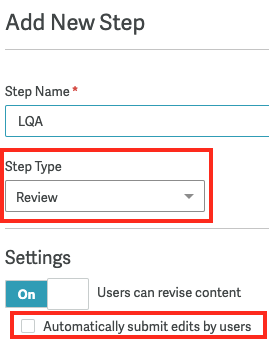 Smartling recommends creating a review step explicitly for LQA purposes.

In the above example workflow, the "Edit" and "Review" steps are not required steps. The only required step is the Translation step.
Using LQA
Once the LQA feature is enabled, any user who has access to the translation in the CAT Tool or Review Mode can access and use the LQA error recording dialog.
The users performing LQA should be native speakers of the translation language.
To record errors with LQA:
Click the translation of the string you want to record an error on
Click

the LQA action; the default state is:

LQA Not Reviewed.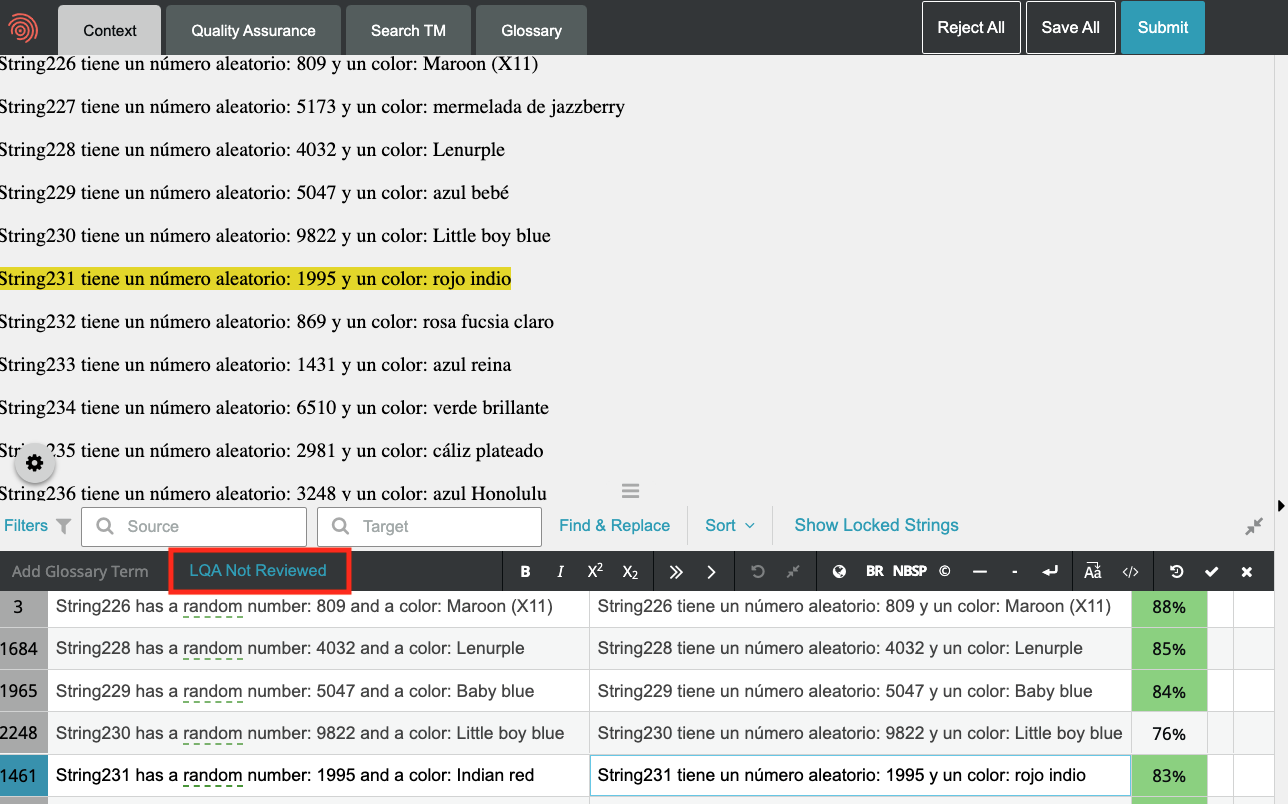 This opens the LQA dialog where linguists can evaluate the translation by clicking Record Error.

Complete all editable fields and click Save
Linguists can add as many errors as needed for a translation by clicking New Error

If the translation has no quality errors, click No Quality Errors or skip the string entirely. It is not necessary to open the LQA dialog to Record No Errors on a string, as the CAT Tool will handle this when the user clicks Submit once the evaluation is complete.
When a translation is evaluated, the LQA action updates to LQA Errors (number of errors recorded) or No LQA Errors.


You can always reevaluate a translation at any time before clicking Submit.
LQA Reporting Analysis
For the BETA release of LQA, a report containing all translations that have been evaluated will be delivered via a scheduled email.
The information gathered in this file can then be used by your stakeholders to make strategic decisions on your localization process.
Considerations
Errors vs No Errors
To really understand quality, it's just as important to know what translations you have with no errors as well as those that do have errors. In this regard, recording that the translation has "No Errors" during the LQA evaluation is critical. Submitting translations from an LQA step without errors will automatically be recorded as no errors; meaning it's not necessary to record No Quality Errors in the dialog.
Edited Translations
As a reviewer, you may choose to edit the translations submitted for your review and error recording. It is important to remember that regardless if you edit the translation before or after recording an error, the translation that the error is recorded on is the translation that was submitted to your workflow step. Note the "Unedited translation" "Edited translation" or difference between the two is available for review in the dialog.