Add or Remove Linguists
This article is for Agency Account Owners.
You can add and remove linguists from an account.
Adding Translators/Editors gives them access to translate or edit content for the workflow steps they've been assigned.
Removing Translators/Editors from a workflow step means that they will no longer have access to their assigned workflow tasks.
Add a Linguist
Step 1: Invite them to Smartling
Go to Projects Dashboard (select a project) > View Project > Team > People.
Click Add User.
Click on the appropriate user role and enter the email address of the new user.
Click Confirm.
Step 2: Assign workflow tasks
Immediately after adding the user to the account, you should assign them their languages and workflow tasks.
Click Add Assignment.
Select a language they should be assigned to, a workflow, and a step.
Click Add Assignment. Add more workflow assignments if the user needs access to multiple workflows or steps.
Click Save Changes or Cancel to exit.
A sign-up invitation will be sent to the Translator/Editor once you've added the user to a workflow assignment. If they've already registered with Smartling, they will be invited to work on the specific account.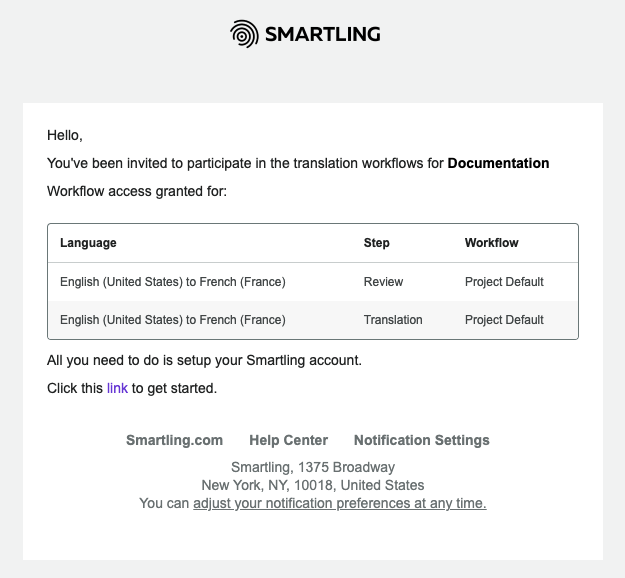 Remove a User
Go to Projects Dashboard (select a project) > View Project > Team > People.
Click the user's name for which you'd like to remove from a workflow step or account access.
Under Workflow Assignments, check all of the workflow assignments that you wish to remove the user from.
Click Remove Assignment.
If you want to remove the user from the account, make sure that all workflow assignments are removed, and in the upper-right corner of the screen, click Remove User.