This article is for Translators and Editors.
In Smartling, you will be assigned to one or more projects. Use the steps below to quickly and easily find work that has been assigned to you.
Enable email notifications to be notified the moment you are assigned work.
Via Projects Dashboard
Go to Projects Dashboard (or click the Smartling logo in the left corner of your screen). If you've been assigned work in a specific project, you'll see the number of words in the Available for Work field of the project card.

Hover over the project card and click View Project to see the content you have been assigned to work on:

You'll be brought to the Project Summary page, which shows you all jobs you've been assigned to work on in the project, and their respective due dates:
Click on the job name to begin translating.
Via Jobs Dashboard
See the Jobs Dashboard for Translators and Editors article.
Advanced Filtering
To find a specific piece of content you've been assigned to work on, click Translations from within a project: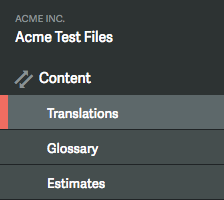 This will display all content you are currently assigned to. Use the keyword search and filter options to locate specific content:

Search filters can be expanded by clicking the drop down arrow. 
View Published Translations
Your work will be published once it reaches the end of the workflow defined by your customer. If you need to view published translations, toggle to the Completed queue by clicking the drop down arrow.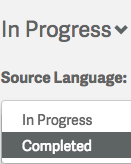 By default, you will have access to view published translations. If your customer asks you to update published translations, they will need to send the content back to your assigned workflow step (for example, Editing), or grant you permission to change published translations.